The last Huawei phone to feature the Google Mobile Services version of Android was the P30 Pro released in March 2019. Banned from using Google software and apps by the U.S. Commerce Department due to security issues, Huawei developed its own operating system called HarmonyOS. It was first used on a Huawei smartphone with the Mate 40 series and the Mate X2 foldable. Eventually, Huawei Mobile Services was also released in 2019 and includes the company's AppGallery app storefront.
Gizchina
reports that according to an unnamed tech blogger, Huawei is currently in the process of testing HarmonyOS 3.1 internally. Version 3.0 of the operating system was pre-installed on the Mate 50 line
that was released to a warm reception domestically last year
. The latest rumor says that the new build kills off some bugs while improving system stability. The report also says that Huawei doesn't have plans in place to update recently released handsets over the air with HarmonyOS 3.0.
With a 2% global market share, HarmonyOS is the third-largest smartphone platform in the world
And it isn't too soon to be thinking about version 4.0 of HarmonyOS. The report says the operating system's next major build will include some new designs (we assume that the UI of the operating system is what will be changed) along with some new functionality. Now here's the deal folks, while HarmonyOS-powered handsets make up only 2% of the world's smartphones, that is good enough to make Huawei's in-house operating system the third largest smartphone platform in the world after Android and iOS.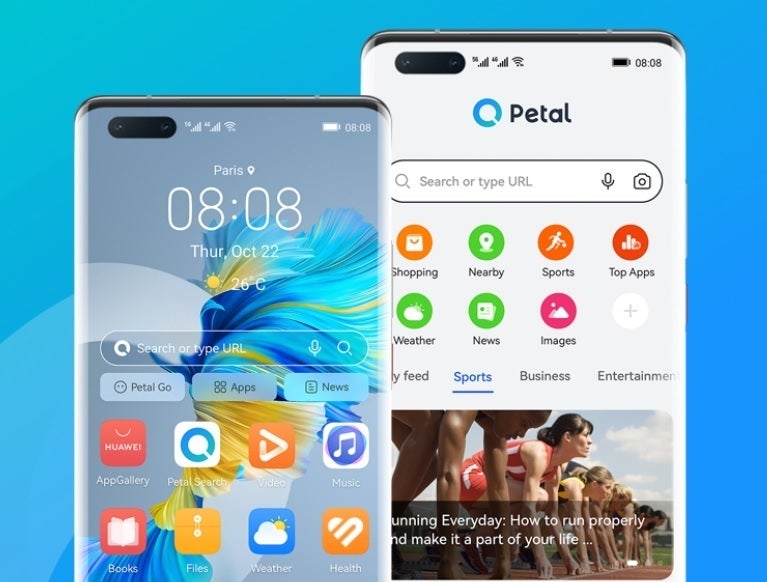 Petal Search is one of Huawei's most innovative apps
In talking with our readers throughout the years, some believe that Huawei deserves all of the punishments placed on it by the U.S. because the company is truly a national security threat. And there are others who believe that the U.S. started punishing Huawei only to make sure that it didn't negatively impact Apple's businesses. No matter what you believe, the Chinese manufacturer may not have thrived as it did in the past, but it didn't roll over and die either.
And Huawei's Mate 50 featured some innovations including the Emergency Battery Mode that even with 1% battery life remaining allowed users to make calls for 12 minutes, send messages, and stay on standby for up to three hours. The Mate 50 Pro became only the second handset to feature a camera with a variable aperture.
O
ne of the most interesting apps available from AppGallery is called Petal Search
. The app allows users to obtain, "daily weather forecasts and top news; live sports scores and schedules; video, image, and music searches; and financial news and stock market updates." If you're about to travel, Petal Search will "search millions of hotels worldwide and book rooms; and check flights and travel info for top global destinations." Petal Search will also "look up local services and businesses with comprehensive directories." But there is even more functionality to this app.
The U.S. tightens the ban on chip shipments to Huawei

If you're looking for a particular app that isn't listed on AppGallery for one reason or another, search for it on Petal Search and even apps developed by Americans will show up if they are available to be sideloaded from a third-party app store. If an alternative source for such an app is found, you can install it directly from the Petal Search app. When we first wrote about the app three years ago, it allowed Huawei device owners to install American-developed apps such as Amazon, Snapchat, Speedtest.net, and AccuWeather.
Now that
the U.S. has banned Huawei from receiving the 4G-only Snapdragon chipsets
from Qualcomm, the company's continued existence in the smartphone industry will depend on whether Huawei receives a patent for a new light source it created for the extreme ultraviolet (EUV) lithography machines that are used to etch extremely thin circuitry patterns on silicon wafers. It is crucial to the production of cutting-edge chips. One Ditch company, ASML, makes these machines and is banned from shipping them to China.
Should
Huawei
get the patent it applied for and help create an EUV machine of its own, the company will have everything available that it needs. HarmonyOS, Huawei Mobile Services, the AppGallery, and even cutting-edge chips. There are some questions. What will Huawei do for chips if it doesn't get the patent? And even if it does, it could be several years before an alternate EUV machine is built for a Chinese foundry.